At EWM Dumpster Rental, we want to make sure that you have all the information you need to make the best decision for your project. We understand that renting a dumpster can be confusing and sometimes stressful. To help you out, we've compiled a list of the most frequently asked questions about dumpster rentals.
Whether you're a first-time renter or a pro, our goal is to provide you with the best possible dumpster rental experience, so if you have any additional questions that are not answered here, please don't hesitate to contact us.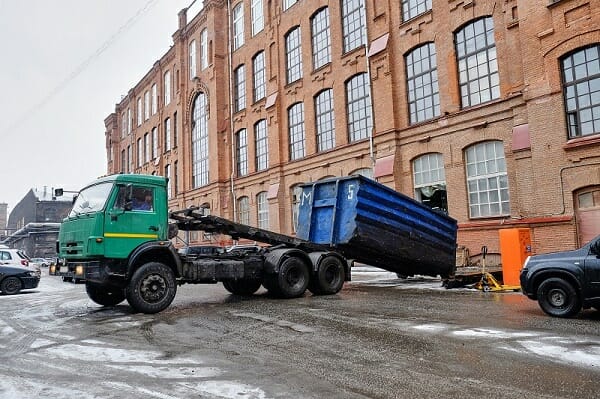 Dumpster Rental Services
What services do you offer?
Our dumpster rental services include a wide range of options. We offer residential, contractor, and commercial dumpster services. Roll-off dumpsters are available to meet your needs, including 10 yards, 20-yard, 30-yard, and 40-yard dumpsters. Our business also offers front-load dumpsters for companies that require regular, ongoing waste disposal services.
Why use an EWM Dumpster?
Many dumpster rental companies exist, but not all are the same. At EWM Dumpster Rental, we pride ourselves on providing a top-notch dumpster rental company. We have an extensive selection of dumpsters, and our dumpster service will save you both time and money. Without rate waste disposal services, provide quick and courteous service to contractors, property owners, and business owners.
What dumpster sizes do you offer?
There are a variety of dumpster sizes available for everything from small home renovations to large commercial demolitions. Our dumpster rental options include 10-yard dumpsters, 15-yard dumpsters, 20-yard dumpsters, 30-yard dumpsters, and 40-yard dumpsters. As soon as it is available, we will send it to you.
Which Size Dumpster Should I Rent?
10-yard dumpsters: Great for small cleaning projects or single rooms, 250 square feet of deck removals, 1500 square feet of roof shingles (single layer), small kitchen or bathroom renovations, or when you need to dispose of junk from a garage or shed.
20–yard dumpsters: It's perfect for roofing, landscaping, remodeling, and small-scale construction projects, junk removal service for residential and office, as well as large cleanup projects like moving out of an apartment.
30 yards dumpster: Ideal for larger residential, commercial, and industrial jobs, including new home constructions, garage, barn, outbuilding demolitions, and siding or window replacements. The common dimension of the 30 yard dumpster is 22 feet long, 8 feet wide, and 6 feet high.
40-yard dumpsters: Suitable for large renovation projects, commercial construction, or foreclosures like replacing windows and siding, office cleanup, renovation, and demolition, or construction projects that generate a lot of trash, cardboard, paper, or debris.
How do I rent a dumpster?
With EWM Services, you can rent a dumpster easily. To get started, call us and tell us about your cleanup project and what you would like us to remove. The team at our customer service department will help you select the right dumpster size and set up your order in a matter of minutes.
Coverage Area
EWM Dumpster Rental serves customers throughout Pennsylvania, Virginia, Maryland, Washington DC, Delaware, Connecticut, Ohio and  New Jersey. See the list of all areas we served.
Dumpster Prices
What does the price include?
The price of renting a dumpster includes the following:
The initial delivery and removal.

A specified weight allowance for disposal.

The rental period.
Our full-fledged and licensed disposal facility will dispose of all wastes by law.
How much does it cost to rent a dumpster
Several factors influence dumpster rental costs:
Size

Debris type

Weight of debris

Location

Length of the rental period
Thus, a dumpster's price depends on your location and specific order details. Our simple flat-rate pricing applies to every dumpster size, so you'll always know your total price upfront, no matter where or how much you're disposing of. Contact us today to get a free quote on dumpster rentals near me to cost you.
Is there a charge for extra weight?
You will charge for the additional weight you put in your dumpster at the specified tonnage rate if it exceeds the included weight in your order confirmation. Our disposal facility charges us according to weight, and we will pass this charge along to you.
What methods of payment do you accept?
The company accepts all major credit cards, including MasterCard, Visa, American Express, and Discover. For the time being, we will not be able to get cash, checks, or money orders.
Where can I pay for my order?
 When placing an order, you will usually be required to make a payment over the phone.
How much does a dumpster rental cost?
In addition to the rental fee itself, there is also a delivery and pick-up fee included in this fee. The cost of renting a dumpster will depend on the size and type of dumpster you need and the location of the company where you are leasing the dumpster. Call us today to get a free quote on a dumpster rental near me to cost you.
How much Does a Construction Dumpster Rental Cost?
An average construction dumpster rental price is between $285 to $1,068. Since demolition and construction debris have higher disposal fees than residential waste, these containers are more expensive than residential bins.
Materials
Are there any materials that may incur additional fees?
The disposal facility may charge a per-item disposal fee for mattresses, tires, large/bulky items of electronic waste, and items containing freon. The customer will be charged any per-item dump fees.
Is it possible to determine how much debris weighs?
A gross weight is recorded at the disposal facility after the truck drives onto a scale. The truck returns to its starting point after emptying the dumpster. The second scale measures tare weight (truck and dumpster).
As a result, the debris in the dumpster weighs what is left over from the first and second weights (gross-tare). The state measures and weighs bureau regulates the scales.
What materials are prohibited?
The material includes dirt, hazardous waste, industrial waste, oil filters, herbicides, chemical products, pesticides, solvents, radioactive material, paint cans, other flammable liquids, propane tanks, aerosol cans, motor oil, lubricating/hydraulic oil, transmission oil, oil filters, and contaminated oils, appliances, antifreeze, petroleum contaminated soil, tires, computers, batteries, monitors, fluorescent tubes, medical waste, railroad ties, animals, asbestos, barrels, all liquids.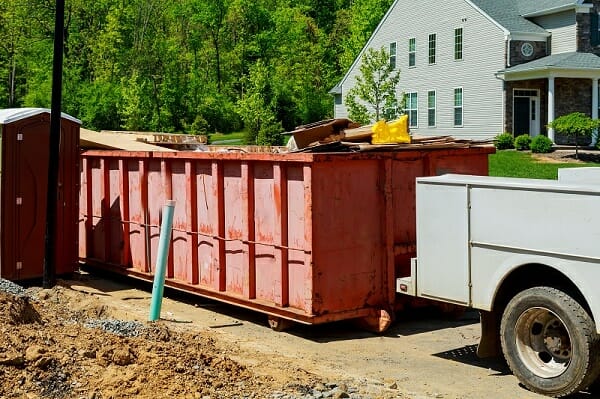 Features
Are there any weight limits on my dumpster?
Yes, there is a weight limit on my dumpster. The weight limit on each dumpster size indicates how much debris you can dispose of without exceeding your quote. You will be charged an additional fee if you exceed your weight limit. If unsure, call us at (610)679-8449.
Do dumpsters have doors?
Yes, we provide open-top containers with a rear door, also known as roll-off dumpsters. You fill your dumpster to the top, we haul it away, and we deliver it on special trucks.
What size dumpster do I need?
Depending on the project you are working on, you'll need a different size dumpster. If you are doing a small home remodeling debris project, you may only need a 10-yard dumpster. Please call our customer service team and explain your project so we can assist you with choosing the right dumpster.
Is there a proper way to load a dumpster?
When filling a dumpster, try to load it evenly. If you do this, the dumpster can hold more debris, and you won't have to worry about overloading it. The hauler should not pick up the dumpster if items hang over or stick above the side of the container. It is important to note that overfilling your container may result in an additional fee.
Can I put anything in a dumpster?
No, you cannot put anything in a dumpster. Debris from construction materials and household projects can be disposed of in your dumpster. Our dumpsters do not permit hazardous materials, including flammable materials, toxic materials, and hazardous chemicals.
Can you tell me how to load my dumpster?
It would help if you placed all debris inside a dumpster while loading it. It would be best to throw anything sticking through the dumpster's edge or over the sides away. The driver cannot haul overloaded dumpsters, which may delay picking up your yard waste.
Is a permit required for a dumpster?
Permits are typically required only when dumpsters are placed on public property such as streets, easements, or sidewalks.
You should contact your local municipality or the public works department to determine what permits are required for your specific situation. Even within a town, permit requirements can vary!
Scheduling
What is the estimated delivery date of my dumpster?
The delivery of dumpsters typically occurs between 6 am. and 6 pm. on weekdays, depending on availability. Since drivers' routes are dynamic and fuel-efficient, we cannot provide an ETA.
A permanent service dumpster will not be delivered until the existing contract expires. The delivery of your dumpster will take one to three business days after you sign up if you don't have a current service.
Is my presence required for delivery and pick-up?
You don't need to be present at the time of delivery or pick-up. You will instruct the driver to drop it off at the location you specify when you order.
Is my dumpster picked up automatically?
Roll-off dumpsters aren't picked up until we receive a notification. Please schedule a pick-up online at least one week in advance to ensure your rental period ends on the last day.
We will charge you for each additional day you keep the dumpster if you do not contact us by the last day of your rental period.
Do I need to be there when it is delivered/removed?
Delivery or removal of the roll-off dumpster rental requires someone on site but is not necessary. Using the best judgment, the driver will place the roll-off dumpster where it is most accessible. Relocation charges will be your responsibility. The customer must provide unobstructed access when the roll-off dumpster is picked up. Accessible dumpsters will incur wasted trip fees.
Roll-off versus front-load dumpsters: what's the difference?
Yard roll-off dumpster is used primarily for remodeling, construction, roofing, clean-up, and yard waste disposal. Rental periods for these bins range from one week to two weeks, making them ideal for one-time projects.
A front-loaded dumpster is a covered bin designed to hold trash for regular pick-up weekly, biweekly, or monthly. With front-load dumpster rental services, you'll benefit from a flexible agreement for the length of time that you'll need the dumpster.