Completing home improvement projects can be an extremely expensive and time-consuming task, requiring you to budget for labor costs and materials, in addition to holding a contingency budget for any unexpected costs. However, it can easy to forget about the vast volume of debris that needs to be disposed of before, during, and after the completion of your home improvement project. Renting a dumpster is the easiest way to dispose of your debris, allowing the dumpster company to take away your debris.
You may wish to hire a container for only one day, as you may be able to clear the debris resulting from your project in one day only. However, most companies will not hire a container to a client for one day only, with most companies requiring that a weekly rental of a seven day period is agreed to, regardless of your project timescale.
However, it may be possible to ask the company to pick up your debris and waste sooner than the agreed date on a different day, such as one day after you have filled the container if the company is able to do so. Furthermore, some companies may charge rates per day to hire a container, providing you with the flexibility to choose the desired number of days in the rental agreement. Choosing a company that provides a day rate may be a good choice for smaller projects.
What is the cost to rent a dumpster?
Dumpster rental varies depending on the size of the container, as well as the duration that you rent the dumpster for. The total day period that covers your rental period when you rent a dumpster allows you to rent the dumpster for as long as your home improvement project lasts. In addition, the cost to rent a dumpster will depend on the company that you use, as well as your own personal zip code due to local requirements in different areas.
Therefore, it is important to gather a range of different quotes together to assess which dumpster rental costs suit your own needs and your own requirements. Seeking several quotes for rental from varying dumpster companies will allow you to discover the best rental price.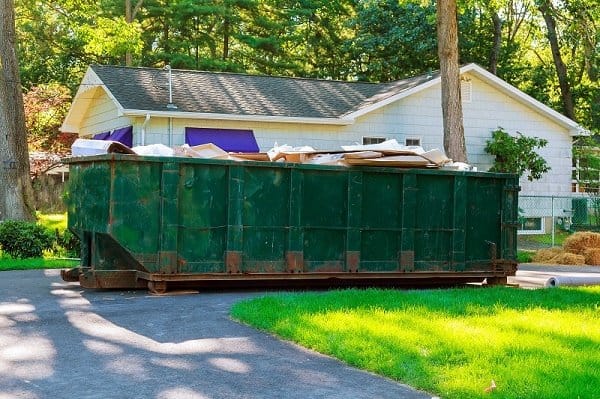 How much does it cost to hire a dumpster measuring 10 yards?
10 yard dumpsters are the perfect choice for disposing of debris when you are completing a small home improvement project and is the best time to seek dumpster rental services. 10 yard containers typically measure around 14 feet long by 7.5 feet wide, allowing a height of around 3.5 feet. Holding around 10 cubic yards of debris, this equates to approximately 60 standard size trash bags.
The price of such dumpster rentals depends on the dumpster companies used, although you can estimate to spend somewhere between $260 to $490, depending on your rental period. The cost of such dumpster rental services includes ensuring that the company disposes of your debris responsibly, although there will be some restrictions with what the dumpster companies will not take away. It is also good to remember that the price to rent the container includes various other restrictions, such as adhering to a specified height of debris and approximate weight allowance of around 2 – 3 tons.
How much does it cost to hire a dumpster measuring 20 yards?
Dumpster rental services allow bigger containers to be hired, perfect for larger home improvement projects. These containers usually measure around 22 feet long and 7.5 feet wide and cover a height of around 4.5 feet. Dumpster rentals for the 20 yard dumpster container allow around 20 cubic yards of debris to be disposed of, equating to around 120 typical trash bags.
Dumpster rental costs for this type of container begin at around $290 and can rise to as high as $625. Once again, restrictions as to the weight and the height of debris will apply, along with restrictions in regards to the type of waste that is taken away. However, these dumpsters are perfect if you are remodeling a master bedroom, a small kitchen, or a bathroom.
How much does it cost to hire a dumpster measuring 30 yards?
If you require rental of a dumpster bigger than a 20-yard dumpster, then you do have the option to hire a dumpster offering 30 cubic yards of space to fill with debris. The cost to rent one of the larger dumpster containers is the perfect choice for the larger project such as renovating a large kitchen or building an addition or extension to your home.
Providing measurements of 22 feet long and 7.5 feet wide, rental of a larger container provides 6 feet of height to fill with debris, offering space to fill around 180 trash bags. The rental price of one of these dumpsters for your home project will begin at about $350 and may be priced as high as $750. The day rate of hiring one of these containers will depend on the company used as well as your zip code.