As the fourth most populous county in Pennsylvania, we understand how important it is for local residents, businesses and construction sites to have access to excellent trash removal services.
EWM Dumpster Rental is the number one trash removal service in Pennsylvania. As a locally-owned company, we have a great knowledge of Delaware County and it's surrounding areas.
Whether you're a local resident who is clearing out your home or a business owner who is working on new offices, we have the roll-on dumpster to handle your waste. We offer an outstanding service, including pick-up and drop off at no extra cost. We will deliver an empty container of your chosen volume to your site, and can even collect it the same day if needed.
WHERE WE ARE
If you are a local resident or business owner in Delaware County, PA who is looking for a roll-on dumpster to hire, EWM Dumpster Rental is the number one company in the state. We offer exceptional customer service and a great deal on versatile containers to suit any project.
If you are based in Chadds Ford, Ridley Park, Randor, Chester, Broomall or any other surrounding areas in Deleware County, PA we can deliver a dumpster to your site whenever you request.
Contact your local office in Radnor, Delaware County or visit us online to book an appointment with our friendly customer service team. Together, we can arrange to best dumpster rental for your needs and give you an accurate quote for your rental period.
DUMPSTERS AVAILABLE
No matter what kind of project you are working on, whether that be a small home renovation or a large scale industrial construction, we can help everything run smoothly.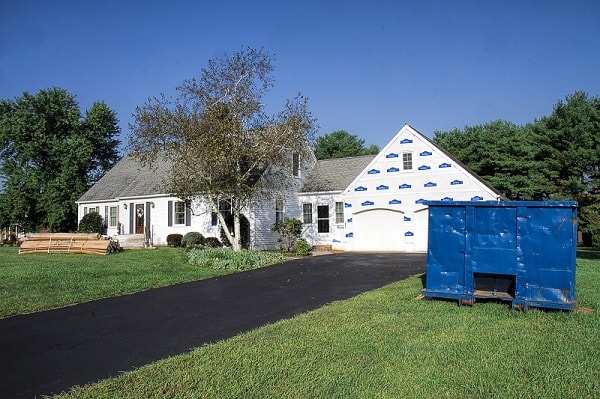 As a locally-owned and based company, we know how hectic life in Delaware County, PA can be and how facing too many decisions can cause stress – which is the last thing you need when working on a large project! If you do need to hire a roll-on dumpster, either for your home or construction site, we have a great range of 20-yard dumpsters that can suit any waste.
20 cubic-yard dumpsters are our most popular volume of containers because of how versatile they are. These dumpsters can be used on residential clear ups or for construction waste, including wood, gravel and landscaping debris such as leaves or branches.
Our dumpster rental service includes pick-up, drop off and waste disposal for one great price. When you contact your local office for a quote, everything we provide will be outlined meaning no hidden fees or additional charges to surprise you on your final invoice.
We operate an incredibly popular one-stop, no fuss trash removal service that has been so beneficial to residents all across of Delaware County, Pennsylvania.
COMPETITIVE RATES
As a locally-owned and based company in Pennsylvania, we can provide our clients with lower overhead charges than our national competitors. Alongside our local knowledge, residents, and business owners in Delaware County, PA have chosen EWM Dumpster Rental as their number one trash removal service.
Our low rates, friendly customer service team, and one-stop dumpster hire service are what makes us such an excellent choice for Delaware County, PA – no matter what your needs are.
We are a residential and business-friendly company who can provide a whole range of clients with the roll-on dumpster they need. We are passionate about delivering excellent customer service and want to keep our counties safe and clean.
ABOUT DELAWARE COUNTY, PA
Delaware County is the fifth most populous county in the state of Pennsylvania while being the third smallest in land area in the state.
Delaware County, commonly known as Delco by local residents, was named after the Delaware River during its creation in 1789. The County was created from parts of Chester County, PA on September 26, 1789.
The Delaware River is a major river on the Atlantic Coast of the United States. The East Branch of the river begins at the Grand Gorge, Roxbury near Delaware County. The river is one of the 19 "Great Waters" in the US as recognized by the American Great Water Coalition.
Delaware County, PA is located adjacent to the city-county of Philadelphia and is a part of the Philadelphia–Camden–Wilmington, PA–NJ–DE–MD Metropolitan Statistical Area. The county seat of Delaware is Media, which is the first fair trade town in America.
Media hasn't always been the county seat of Delaware. Until 1850, Chester was the county seat of Delaware.