A roll-off container can be perfect for all kinds of disposal, construction, and demolition work. If you need a large container that can be delivered almost anywhere, rented for a week, and taken off to be emptied, then it is probably the best option for disposing of construction debris and other assorted trash without needing to handle difficult logistics yourself. But how do you find a roll-off dumpster for rent, and what is the process like?
How much dumpster rental?
There is not a single set price for roll-off dumpster rentals, and it can vary significantly even across the same state. With so many different dumpster rental companies that all have their own particular service options or rules in place, it can seem difficult to compare and contrast it all, especially if you are not experienced enough to know that you should be paying on average.
The national average has occasionally veered much higher or lower than expected: some years, the average price of dumpsters for rental was $382, with the typical range being between $290 and $480. In other years, the average cost has gone as high as $494. While this data is based on all dumpster rental cases across the nation, it also means that it can be difficult to know what people are actually paying for each time, especially if you only want to look at a certain dumpster type.
In general, prices vary based on size. To make this easier to understand, it might help to cover all dumpster sizes at the same time.
Which size dumpster do I need?
There are multiple pre-set dumpster sizes, calculated in the number of cubic yards of capacity they each offer. Each type of dumpsters for rent can be valued at a different amount, usually scaling upwards as the capacity increases.
10 Yard Dumpster
The smallest standard size dumpster dimensions usually reach, is 10 cubic yards. These are often around 17 by 7.5 x 3.5 feet and can hold up to 6,000 pounds. They are great for small-scale junk removal, as well as some landscaping projects, but can not hold that many large materials and are often used for clearing rooms of furniture rather than getting rid of larger sets of scrap or trash.
You would generally have to pay around $360 to rent one of these, on average. Certain areas charge more, and others charge less.
15 Yard Dumpster
Slightly larger than their previous cousin, these rental dumpsters are similar dimensions and can hold the same weight. They serve the same kind of purpose and are mostly used for people who want to rent a dumpster to clear an area of furniture or landscaping debris. These are priced higher, usually at an average closer to $420.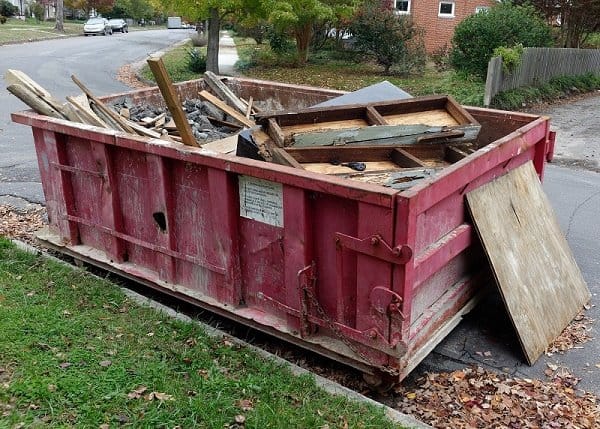 20 Yard Dumpster
These dumpers for rent are usually larger, often close to 22 feet in length, but still have a similar overall weight. They are meant for more extensive work, including remodeling entire rooms or scrapping larger appliances from rooms such as kitchens. Their increased size and capacity makes them more expensive at over $420, occasionally even bumping close to the $500 price point.
30-Yard Dumpster
A 30-yard roll-off dumpster can be used for major renovations and construction projects, even holding the construction debris from an entire newly-built structure if you are lucky. These are much taller, often standing about six feet high, and can hold well up to 10,000 pounds if you choose the right dumpster for rental. They average price is at $500 and beyond.
40-Yard Dumpster
40-yard dumpster rentals are ideal for handling major construction, including demolitions and renovations of an entire house. They can hold up to 12,000 pounds and often reach eight feet in eight, making them one of the most absurdly large containers you can rent for commercial or personal use. They average around $500 as well, but some can reach as high as $850, depending on the circumstances.
Which do I choose?
The hardest part of choosing a roll-off container is knowing what you actually need. Getting the right kind of roll-off dumpster for the job, as well as making sure that you can properly fit it into the space that you have cleared for it, is very important.
For example, if you need a 20-yard dumpster, you might choose to get a 30-yard dumpster rather than a 20-yard just in case you create more construction debris than you expected. However, going for a 30-yard dumpster when you only need a 10-yard can be excessive and cost more money, but you are not necessarily getting any benefit out of having a larger container.
Large dumpster rental can come with its own share of problems, such as the dumpster rental service not being able to place the dumpsters in a certain area. If you live in Washington DC, for example, you might not be able to have a large dumpster delivered to a busy Washington DC street because there are so many things in the way. Even if it gets delivered, Washington DC might not have the area required to place large dumpsters outside buildings.
How do I rent a dumpster?
Dumpster rental isn't hard. There are plenty of roll-off- dumpster rental companies out there, from the middle of Washington DC to the most rural areas of the countryside. Regardless of the dumpster dimension you need, or the rental period you are looking for, it isn't hard to find a service that can reach your area.
Get in Contact
First of all, you need to contact them. Take a look at their website for a "Call Us!" button or comment on their social media until they tell you "call us at (phone number)." Many dumpster rental service businesses have this kind of "call us to book" system, just like other rental types. Either way, once you can contact their customer service, you will be able arrange the delivery.
Be Precise
Finding a dumper for rent is simple, but you need to be sure of when and where you are going to use it. Make sure that you tell them the exact service area and the time period you want, and don't be vague. The service is going to follow the specifications you set out, regardless of whether you are in the middle of Washington DC or out in a field with no other buildings around for a mile. The better your directions, the better the dumpster delivery will be.
Handle Delivery
When a dumpster rental company comes to drop off dumpsters, they need to know where to put it. If you are physically there, you might be able to talk to them and guide the dumpster into the correct spot, but it is much easier to mark a space out. Whether it is with paint, cones, or wooden planks, you want a space that shows where the dumpster dimensions should go so that the company can deliver it right where it is needed.
Fill the Roll-Off Dumpster
Once you have a dumpster, you need to actually use it. Keep in mind that many companies have rules on how their roll-off dumpsters can be used: you might not be able to fill a roll-off dumpster with a certain set of materials or reach a certain weight limit, especially not when the roll-off dumpsters are already small and might not be able to contain it properly.
Wait for the service to pick it up
Once your roll-off container is filled and the rental period has expired, the company that rented the dumpsters to you will come to collect them. They will then go and dump the contents, so that you don't have to, getting rid of your debris and trash in the process. Remember that dumpster dimensions need to be kept in mind – picking up a 40-yard container with large dumpster dimensions in the busy streets of Washington DC is hard, especially if the container is full of heavy materials.
Repeat as Needed
If you have more materials to get rid of or need another container for a second stage of the project, go ahead and rent another one as soon as it becomes necessary. Even in busy cities like Washington DC, there are bound to be multiple Washington DC businesses within easy reach that can offer you a suitable dumpster, especially in areas where construction isn't as common.
It always helps to go to closer businesses. If you live in Washington DC and choose a business outside of DC, they are going to have to go quite a distance to deliver it. With a local company, you might only have to wait half a day if you are lucky, meaning that you can get straight to work when it arrives.