When it comes to renting a dumpster for construction waste, there are several things you need to consider.
Construction debris can include materials such as dry wood, flooring, roofing, and insulation. It is likely that if you are working on a project like this that it will be large-scale, which means that you will have a lot of waste management to deal with.
There are several options when it comes to the kind of dumpster to rent for your project, and we are going to guide you through your choices here.
What Dumpster Do I Need For Construction Debris?
The key to getting the right dumpster for your construction work is planning.
This means that before you can find the right rentable dumpster, you will need to think about the kind of debris that will be generated by your work and how much waste will need to be removed from the site.
This will narrow down your options of dumpster rentals, as some containers are better suited to some forms of construction debris like concrete or sand, whereas other containers are required for larger materials.
For example, if your construction task is producing a lot of concrete debris, then you will need to think about separating this into a smaller container. A 10 or 20 yard roll off container will be required for heavy-weight debris, whereas a larger dumpster is needed for the rest of the debris on site.
Some key questions you can ask yourself before looking into dumpster rental are:
What kind of waste or materials will need to be thrown away?
How heavy are these materials?
How much waste will be created?
As a general rule, heavy debris such as shingles and concrete should be placed in a small dumpster. In this case, a 10 yard or 20 yard dumpster rental will be an excellent option to safely dispose of this kind of waste.
For lighter materials, like dry wood or insulation, a larger dumpster like a 30 yard dumpster is the best option.
We offer a range of dumpster sizes and options for those in Washington D.C, so please do not hesitate to call us for more information.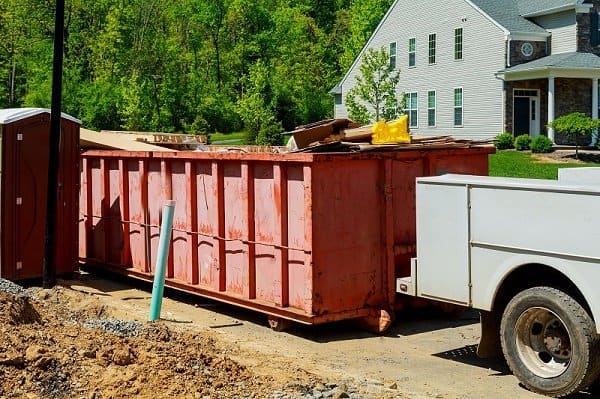 How To Estimate The Right Size Dumpster
When you want to rent a dumpster, you will notice that each roll off container is categorized in yards.
Dumpsters are categorized by how much volume they can hold, and this is measured in cubic yards. This means that a 30 yard dumpster can hold 30 cubic yards of volume, and so on.
This can make it quite difficult to estimate the size of the dumpsters that you require because it can be hard to picture what a cubic yard translates into.
One cubic yard of debris measures 3 x 3 x 3 feet. This is approximately the size of a kitchen stove, so a 20 yard dumpster can hold waste worth 20 kitchen stoves in size.
However, when it comes to dumpster rental, you have to consider more than just the size of the container as the weight is just as valuable too.
While the dumpster dimensions are important to consider, as they will determine how large the container will be and the inner dumpster dimensions indicate the volume of waste that can be removed, dumpsters can only handle a certain amount of weight.
Based on the dumpster dimensions, you will only be able to safely remove a certain amount of debris and waste from the site. For example, a 10 yard dumpster can carry 10 cubic yards of waste in volume, but it can only safely manage around 2 tonnes of waste.
The weight that can be supported by the dumpsters you hire is an important factor to look into during the rental, as it will prevent additional fees and issues later on down the line.
If you overfill your dumpsters so they cannot be picked up safely by the pick-up service, then you will have to pay for overage fees. These fees can be around $100.
Not only is this an additional expense that you may not have planned for, but being unable to remove a roll off dumpster from your site will also slow down the progress of your project.
This is why planning for construction dumpster rental is the best thing you can do.
How Much Is The Rental Of Dumpsters?
The cost of renting a dumpster in Washington D.C can vary based on the company you use, the kind of service they offer, and the size of the roll off dumpster you need.
Choosing a certain yard dumpster will alter the total cost of dumpster rental, as smaller containers cost less than larger ones to rent out.
The rental period is also an important factor to consider when it comes to estimating the cost of rental. If you are working on large projects, then it is likely that you will need to hire a dumpster long-term, which can be quite expensive.
Dumpster companies offer several forms of service that you will also be charged for, such as the delivery of the container and the pick-up.
Other kinds of service that you may be charged for can differ based on the kind of waste you are disposing of. Some companies are only liable to cover certain kinds of waste, such as wood or insulation, which means that they can charge extra for anything outside of this.
In the service area of Washington DC, we offer some of the best prices for junk removal during a construction project.
If you are looking for the best pricing and customer service in this area, then please call us to discuss your options.
We can discuss your needs and work out the best price for your disposal needs, based on the kind of jobs you are doing, the waste that will be produced, and the intended rental period.
How To Save Money When Renting Dumpsters
For large projects, the best way to save money is to order a larger container than you may have estimated you needed.
Renting a container is expensive due to all the services that go into this process, so you want to avoid additional fees as much as possible. If you overfill the dumpster, you will have to face an overage fee, which can be upwards of $100.
This is an additional expense and will slow down your project, so for the sake of an additional $20 to $50 during the initial renting of a dumpster, you should opt for the larger container to ensure that your work can run smoothly.