When you are looking for a dumpster to rent, the cost is likely going to be one of your biggest concerns.
If you are looking for a dumpster for rental because you are doing a home clearout, renovation, or remodeling project, then it is likely that you do not want to have to break the bank when it comes to waste removal.
Dumpster rental is a great way to ensure that your home improvement project runs smoothly and safely, as you can prevent waste from building up on-site and have a responsible way to dispose of it.
However, with everything else that goes into a home renovation or clear out project, it is likely that you do not have the resources to pay over the odds for dumpster rentals.
We are going to show you how you can find the best dumpster rental prices in your area.
Please call us for more information, and our customer service team will gladly help you find the best dumpster rental prices for you.
How Much Does Dumpster Rental Cost?
The cost of a dumpster for rent can differ a lot based on the dumpster size you require and the dumpster rental company you use.
Your location and the requirements of the dumpster, such as the kind of waste that it will be used for and the size of your project, is also a factor in the total cost of dumpster rentals.
When looking for a quote when it comes to dumpster rental, there are some things you will need to have planned like:
The dumpster size you require
The rental period
Information regarding the kind of waste you are disposing of
Finding the best size dumpster for your project is one of the first things you should do.
Not only will this make things easier when it comes to dumpster rental, but it can also help you save money by getting a container that fits your needs.
Dumpster rental companies will charge overages fees if you overfill the container, as this means that they cannot pick it up safely. If you want to save money when renting a dumpster, this is something to avoid, which is why planning is so important.
The rental period is how long you require to have the dumpster for. Most rental companies offer periods between 7 and 14 days, but it is possible to hire these containers for a different length of time if required.
When you pay for dumpster rental, you are not just paying for the container and the rental period. You are also paying for the great service that comes with it, including the delivery service and the pickup service.
If you are looking for something quick, such as a next day delivery service, you should expect to pay additional fees.
The kind of debris that goes into a dumpster is something you should make sure to discuss with the rental company, as this can also impact the overall cost. Some dumpster companies do not take specific kinds of waste, and most do not accept waste that has been mixed, such as concrete and building materials with general household waste.
Make sure to speak to the dumpster rental company about your needs before getting a quote to make sure it will be accurate for the service you require.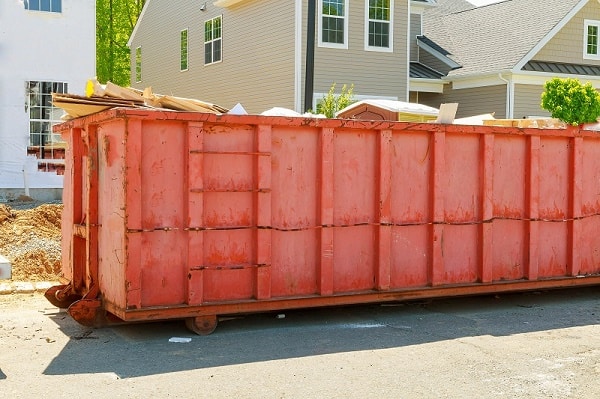 About Dumpster Sizes
For a cheap and successful rental of dumpster, you will need to work out what size dumpster you need before asking for a quote.
There are several different sizes of dumpsters for rent that are available, and you need to determine which one you need so you can look for the best prices.
For most homeowners who rent a dumpster, a 20 yard dumpster will be the best option.
Dumpsters are categorized by the amount of volume they can hold, which is measured in cubic yards. This means that a 30 yard dumpster can hold 30 cubic yards of waste.
One cubic yard is 3 x 3 x 3 feet, which is roughly the size of a kitchen stove. This means a 30 yard container can hold 30 kitchen stoves.
When considering what size dumpster rental you need, you also need to look into the dimensions of the container and the weight limit. Both of these can impact what kind of debris and how much of it can be thrown into the container.
It is important to note that a dumpster has to be picked up by a truck, and the waste needs to be removed from it at landfill sites, which is why it cannot go over the weight limits.
What Size Dumpster Do I Need?
Dumpsters are categorized by the cubic yards of volume they hold.
While dumpster rental companies can have containers that vary in dimensions and shape, all containers have the same volume. This means that no matter where you rent a 10 yard dumpster, it will have a volume of 10 cubic yards even if the dimensions differ from another brand.
With this in mind, here are some basic statistics about the most common size dumpsters for homeowners to help you make your choice:
10 Yard Dumpster
The national average cost of these containers is $300. These dumpsters have common dimensions of 12 x 6 x 4 feet ( length x width x height).
The average weight limit of these containers is up to 2 tonnes, making them suitable for heavy and dense waste but not ideal for bulky materials like furniture.
20 Yard Dumpster
This is the most common size container for homeowners when working on home improvement.
The national average cost of these containers is $385.00. These dumpsters have average dimensions of 22 x 8 x 4 feet.
With an average weight limit of 2 to 3 tonnes, these kinds of dumpsters are suitable for a range of household waste and materials.
30 Yard Dumpster
The national average cost of these containers is $450.00. The dimensions are commonly around 22 x 8 x 6 feet, and the weight limit is 4 to 5 tonnes.
When renting a dumpster, as well as considering the size you need inside of the container, you also need to think about where you will keep it over the rental period.
This is why hiring a smaller dumpster, like a 20 yard container, is the best option for homeowners as these can be safely placed on the streets or in a driveway for the weeks that they are in use.
Should I Go With The Cheapest Dumpsters?
When you rent a dumpster, it can be quite expensive because you are paying for more than the container.
As well as paying for the container you require, the cost to rent a dumpster also includes the delivery and pickup service, the rental period; the kind of waste you are removing; and the customer service.
The costs of renting a dumpster can differ based on your location, and residential dumpsters may cost less than commercial ones as they are smaller.
If you are looking for great service, then you should look for dumpsters that are not the cheapest as you only get what you pay for. When asking for a quote from companies, ensure that they are giving you a price based on all of their services – including the cost of delivery and pickup – to get the most accurate price.
Additional costs can be added to your dumpster rental, such as asking for next day delivery or overage fees if you overfill the container. These are things that you should again discuss with the rental company when asking for a quote, as some companies may not be able to provide services like next day delivery which will make them unsuitable for some projects.
If you have more questions regarding dumpster costs, please call us.