If you have more household waste than usual, you have two options when it comes to disposing of it.
Say you have spent some time on a home improvement or a clear-out project, which has now left you with more debris than you can get away with throwing in the weekly trash. This means that you will need to buy another kind of container for your additional waste, but which is the best option?
You can choose to buy a dumpster bag that can be filled with household waste and picked up with the rest of the trash by waste management, or you can hire a dumpster from a local company and let them deal with the disposal.
What Is A Dumpster Bag?
The dumpster bag is a handy way to dispose of more waste than your weekly trash can handle. As the name suggests, a dumpster bag – the Bagster – is a small, portable bag that is made out of tough woven material.
The Bagster is made for single-use and can hold 3 cubic yards of waste in one bag. Before you can use the dumpster bag or Bagster, you must first buy it. The availability of the Bagster will differ based on your location and zip code.
The Bagster is available online, but it can also be found in home improvement stores. Some stores may stock both the Bagster brand and other versions of a dumpster bag.
How Does It Work?
Once you have bought a dumpster bag, you can start filling it up with excess debris and waste from your home improvement project.
After it has been filled up, you can schedule to have your Bagster collected by the Waste Management pickup service.
The Bagster by Waste Management is the most popular form of dumpsters in a bag, but it is not the only option out there. Most dumpster bags are made the same, as they can hold 3 cubic yards of debris in one bag and offer an alternative to waste removal from your home.
How To Rent A Dumpster
Using a dumpster is a common, temporary form of waste removal that can be used for a range of projects.
You can rent a dumpster anywhere in the country using local waste removal services. The most important thing to do before undergoing dumpster rental is figuring out what size dumpster you need.
Unlike the Bagster bag, dumpsters come in a range of sizes and can carry varying amounts of debris.
Once you have figured out what kind of dumpster you need, you can contact a local dumpster rental company to discuss the rental period, prices, and when the container can be delivered too you.
Renting a dumpster can be quite expensive, as you are not only paying for the container itself but also the delivery and pickup of it too.
How To Find The Right Sized Dumpster
The key to renting a dumpster is working out what you need. Finding out what size dumpster you need will save you money in the long run, as you will be charged additional fees by overfilling the container.
Dumpsters are categorized by size, which is determined by the cubic yard volume of debris that they can hold. If you are using this form of junk removal, you will need to plan how much debris will be needing to be removed from your site to get the right size dumpster.
There are options of dumpsters of varying sizes, including:
10 yard dumpster
20 yard dumpster
30 yard dumpster
40 yard dumpster
Some rental companies may offer sizes in between, such as a 15 yard dumpster or larger containers like a 50 yard dumpster. Make sure to contact a variety of dumpster rental companies before committing to one, as this will allow you to get the best deal for the container you need.
Dumpsters are categorized by how much volume they can hold, which means a 10 yard dumpster can hold 10 cubic yards in volume.
One cubic yard is 3 foot x 3 foot by 3 foot, which roughly translates to the size of one kitchen stove.
This means that when choosing a dumpster to rent, you need to think about how much waste will be going into the container to get the right size. A 10 yard container, which is the smallest size of dumpster that is available, can hold 10 cubic yards of waste, which means 10 kitchen stoves worth.
With this information in mind, you might already be able to decide whether you need a Bagster or a dumpster based on how much waste you have to move. Dumpsters are great for larger junk removal, whereas a dumpster bag can hold a small amount of debris in comparison.
The Bagster is made to hold 3 cubic yards of waste, which is 3 kitchen stoves compared to the minimum of 10 held by dumpsters.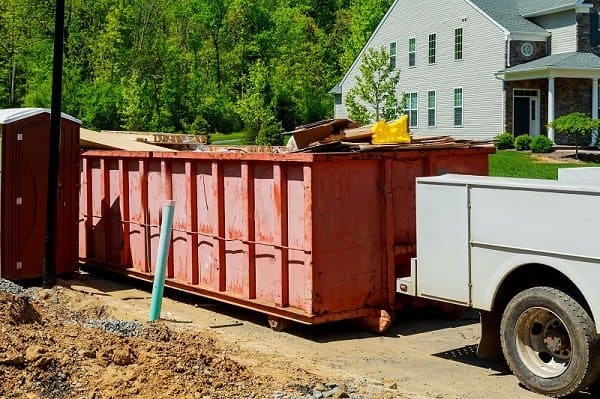 How Much Does Dumpster Rental Cost?
Renting a dumpster will cost more than using a Bagster bag, as there are several kinds of service included.
Not only will you be paying for the container itself, which will increase in price based on the size you choose, but you are also paying for the delivery of the container, pick up and the kind of junk removal you require.
Some dumpster rental companies have restrictions on the kind of debris they can remove. In most cases, hazardous waste is not accepted by any dumpster companies, which means you cannot throw away paint, automotive fuel, or similar products in a dumpster.
Before renting a dumpster, make sure to discuss the restrictions regarding debris with the company. Some rental companies will not allow debris to be mixed, like concrete, with household waste.
If you do not follow these rules, you will be charged additional fees, and there will likely be a delay in the pick up of your container.
Another cost that comes with renting a dumpster is the rental period. Unlike dumpster bags, you cannot opt for a pickup whenever it has become full – instead, you must organize and pay for a specific rental period first.
The rental period can be tailored to suit your needs, but 7 to 14 days is the most common.
While all dumpster rental companies have variations on prices, it is possible to work out an average cost of hiring a dumpster. For this example, we will be using a 10 yard dumpster as this is the smallest size available and the closest comparison we have to the 3 cubic yard dumpster bags.
10 yard dumpsters range from $150 to $500 to rent, which includes the delivery and pickup fee.
How Much Do Dumpster Bags Cost?
The Bagster to buy either online or in a home improvement store is roughly $30. This price is relatively consistent throughout the country.
The highest cost of using dumpster bags over the traditional containers comes with the pick up. Unlike a dumpster, the cost to pick up a full Bagster is not included in the initial price.
The cost of Bagster pick up can vary greatly based on your location.
For most places, the pick up charges of the Bagster range between $120 to $200, but it is important to note that these costs can vary considerably. For example, on the extreme side is the pick up of dumpster bags from New York City, which can cost upwards of $300.
This cost is only for your first bag, with an additional cost of $285.25 per bag for further pick up.
This means that the total cost of using a dumpster bag for your household junk ranges from $140 to $340, including pickup.
How To Get The Best Deal On Dumpsters And Dumpster Bags
The cost of pick up for dumpster bags varies a lot throughout the United States, which means you should take some time to research your area before making your decision.
While the initial cost of dumpster bags is considerably cheaper than renting a dumpster, the fact that the pickup charges can vary so much based on your location is something to take notice of.
If you live central to a large city, then the extremely high pickup fees that come with the bag dumpster may mean that this is not the best option for you. With high pickup fees, you may be better off paying for a dumpster, which will also offer you more space for your debris.
You can also determine the cost of both dumpsters and a dumpster bag per cubic yard to determine which one is the better option. This will require you to call some haulage companies and see how much it will cost to pick up dumpster bags from your location, and then compare it to the fact that each dumpster bag offers 3 cubic yards of volume.
When this is compared to the 10 plus yards that can be provided by a dumpster, you may want to look elsewhere for a better deal.
How Much Do They Hold?
While we have already looked at the volume of both dumpsters and dumpster bags, there are other aspects of their size that need to be considered too.
This will allow you to see which truly is the best option for your needs and how much debris can be carted away with one container or one bag.
It will come as no surprise that the biggest limitation of a dumpster bag is the smaller size. Using a dumpster bag is only a good option if you have 3 cubic yards of debris or less.
Not only do you need to consider the volume of both dumpsters and bags, but looking into their dimensions will also inform you of how much debris they can hold. The dimensions are also a good indicator of what kind of debris they can hold, as smaller containers will not be suitable for large pieces of flooring or wood.
Dumpster Bag Dimensions
Using the Bagster as an example, as this is the model that all other bags are based on, the dimensions are:
8 foot long, 4 foot wide, and 2 foot 6 inches tall.
These bags can hold 3 cubic yards of debris, which is 606 gallons.
As a dumpster bag is only 2 foot 6 inches high, it cannot be used for large household items like furniture and other bulky items. Instead, it is best suited to smaller forms of debris, like flooring, insulation, and tiles.
Of course, you will need to consider the weight allowances before adding too many materials into the bag. If the bag becomes too heavy, it will not be able to be picked up by the company, which can result in additional fees.
Dumpster Dimensions
As we have mentioned, dumpsters come in a range of sizes, but as we are comparing these containers to bags, we will be using the standard 10 yard container for dimensions.
The name of a 10 yard dumpster tells us that this container can hold 10 cubic yards in volume of debris.
The dimensions of a 10 yard dumpster can vary based on the rental company you use, as some have commercial and residential containers that are made for different needs. A residential dumpster will be smaller and narrower than a commercial one to offer good dumpster placement in neighborhoods and on streets.
Regardless of the altering dimensions, all 10 yard containers have the same volume.
The average dimensions for 10 yard dumpsters, based on a standard design, are:
12 feet long, 8 feet wide, and 3.5 feet tall.
As you can see, there is a significant difference in the height of a dumpster versus, a bag which means that dumpsters can be used for a wider variety of debris. Bulky items like furniture can be placed in a dumpster, as the dimensions should be able to cover this.
Just like with a bag, make sure to consider the weight limits of each waste removal option. Weight limits are in place to prevent the containers from becoming too full, which will mean they are too heavy for the pickup truck to remove.
Overfilling a dumpster will result in overage fees, and may require you to buy a second dumpster to handle all of your debris.
Weight Limits To Consider
As we have mentioned, the weight limits of both a bag and a dumpster are something you need to consider carefully.
This will determine what kind of waste can be thrown away and how much of it in each container.
Bag Limits
The Bagster bag is made using strong, woven materials so it can handle the heavyweights of household debris.
This bag can hold up to 3,300 pounds of debris as long as these materials meet the requirements of the dimensions we have mentioned.
Dumpster Limits
The weight limit of a standard 10 yard dumpster will vary based on the haulage company.
Weight limits are set in place for safety, and companies can control how much weight their containers can be used for based on their haulage limits.
10 yard dumpsters can hold anything from 1 to 3 tonnes, which is 2,000 to 6,000 pounds.
All rights reserved, 2020.