Dumpster rental can be a tricky and expensive process to go through if you do not spend some time planning what you need first.
Dumpster rental companies offer several different sizes of containers, all of which are categorized in yards. Before renting a dumpster, you will need to estimate how much waste the container can hold and whether this will be suitable for your needs.
Renting a dumpster can be quite expensive, which is why you should try to work out what size dumpster you need first. Failure to plan for the right size dumpster can result in overage fees and may impact how smoothly your project runs.
For a lot of projects, a 30 yard dumpster is the best size.
What Can A 30 Yard Dumpster Hold?
Dumpsters are categorized by the amount of volume they can hold, and this is measured in cubic yards.
This means that a 30 yard dumpster can hold 30 cubic yards of waste in volume.
One cubic yard is 3 x 3 x 3 feet, which is roughly the size of a standard kitchen stove. With this in mind, a 30 yard dumpster can carry 30 kitchen stoves of volume, whereas the other dumpster sizes can support less or more based on their size.
It can be quite hard to picture exactly what a 30 cubic yard dumpster can carry, especially when it comes to waste and debris. For reference, 30 cubic yards roughly translates to about 9 to 15 pickup truck loads.
With this in mind, a 30 yard dumpster is a medium-sized container that offers versatility. It can be used for medium to large sized projects, such as small renovations or home clear outs.
What Can I Use a 30 Yard Dumpster For?
Now that you know that a 30 yard dumpster holds 30 cubic yards of material, you may be able to work out whether these dumpsters are the right size for you.
This translates to 9 to 15 pickup truck loads of material, which means a 30 cubic yard dumpster is ideal for the following type of debris:
A whole-home clear out
2 layers of roofing shingles, based on an average home
Small home demolition
Interior renovation of a small to medium home
New home construction
Large deck or pool removal
These kinds of projects are great for 30 yard dumpsters as the materials and kinds of debris they use are supported by both the volume and the weight limit of the container.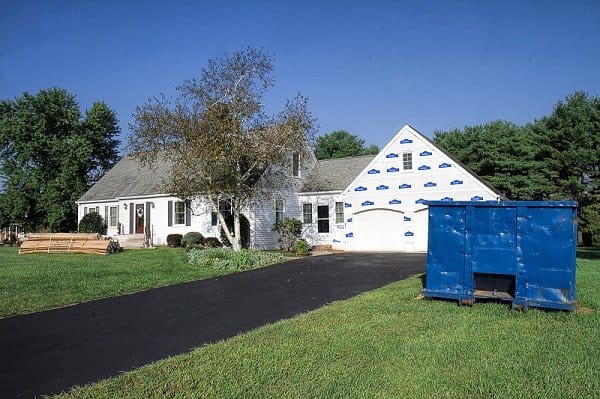 How To Find The Right Dumpster Sizes For Rent?
Dumpsters can come in a range of sizes, from a 10 yard container to 30 yards or even 40 yards depending on the dumpster rental company you use.
As you can imagine, a 10 yard dumpster cannot carry the same amount of waste or debris as a 30 yard container. A 10 yard dumpster holds 10 cubic yards in volume, like a 30 yard supports 30 cubic yards of waste.
Remember that one cubic yard translates to a standard kitchen stove, which is 3 x 3 x 3 feet.
However, as well as considering the dumpster sizes and dimensions during your dumpster rental, you also need to think about the weight limit. 30 yard dumpsters may be able to support 30 kitchen stoves worth of waste, but they also have a weight limit that needs to be considered.
This is why different yard dumpsters are made for different kinds of debris.
If you are handling heavy-weight debris such as concrete, sand, or shingles then smaller dumpsters are your best option. For those who are working on a large project, such as a home renovation where you are clearing out a lot of debris, you may need to rent more than one container.
For example, a 30 yard dumpster can be used for the larger yet lighter materials like dry wood, insulation, and flooring, whereas the 10 yard container is the one that holds heavier debris like concrete and sand.
You must consider the weight limit as well as dumpster sizes when you look into dumpster rental because you will be charged for overfilling. Overage fees can range from $50 to $100 based on the dumpster rental company, and are charged when the container is too heavy to be safely picked up.
Not only is the additional charge something you want to avoid, but being unable to remove dumpsters from your site is certain to slow down the progress of your work.
For a 30 yard dumpster, the standard weight limit is around 2 to 8 tonnes (4,000 to 16,000 pounds).
Dumpsters are made to handle a certain amount of weight because they need to be able to safely support all of the debris within the container, while also being picked up by the delivery truck and tipped in some way to dispose of the waste on the other side.
Can I Use a 30 Yard Dumpster For Everything?
The dumpster size and weight limit can impact the amount of debris that can be thrown into a 30 yard container, but so can the limits of the rental company too.
Some dumpster rental companies have restrictions on the kind of waste that they can dispose of safely, which is something you will have to discuss before renting a dumpster. For some rental companies, you may not be able to mix different kinds of debris such as concrete with general household trash.
While dumpster rental companies have their guidelines about what kind of waste their containers can be used for, all companies prohibit hazardous waste.
There is a range of things that cannot be thrown in a dumpster, which can differ based on your location and the company you use. Things such as paint, tires, automotive fluids, and batteries typically cannot be thrown in a dumpster.
Before renting a dumpster, speak to the rental company about your needs and their restrictions.
How Long Can I Rent A Dumpster For?
You can choose a rental period that works for you, which will differ based on the kind of project you are working on.
The most popular rental period for a 30 yard container is 7 days. This is commonly enough time to work through a home renovation or a similar-sized project, which is why all rental companies will offer this length of time as standard.
It is possible to rent a dumpster for a shorter or longer period, based on your needs.
Note that the rental period will impact the overall cost of renting a 30 yard container.
Rights reserved, 2020.