Renting a dumpster can make any home improvement, renovation, or construction project easier to complete, so in deciding to do so, you have done half of the work already. However, once you have decided to rent a dumpster, you now need to figure out where you are going to get the container from.
You will likely have several options when it comes to local dumpster rental companies, which can make it difficult to find the best one for your needs.
McKeesport contractors and homeowners depend on roll-away dumpster rentals at transparent prices from EWM Dumpster Rental in Allegheny County.
Various factors should be considered when it comes to finding the right dumpster rental company to work with, with one of the main factors being pricing. In this guide, we are going to help you find the right local dumpster rental company for your needs by sharing what should be considered.
Does The Company Offer A Flat Rate?
Local dumpster rental companies offer pricing in two ways; flat rates or variable rates. 
Understanding the difference between these two systems and how they will affect the cost of renting a dumpster is important as it can help you find the best deal when considering local services.
The main difference between these two kinds of pricing is in the way information is given to you as the customer. Various factors contribute to the total cost of renting a dumpster, including the size of the container, the rental period, and the delivery site. The kind of price rating system that is used by the dumpster rental company can determine how easy it will be to keep track of these costs.
As there are many factors at play when it comes to the total cost of dumpster rental, variable rates can be confusing to most people.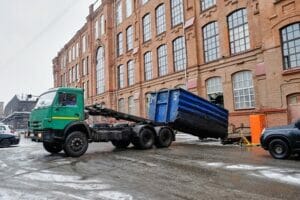 Generally, the price that is quoted to you from the dumpster rental company is for the container itself, which means additional fees should be expected for everything else when renting a dumpster from this local company. This is why companies that operate with variable rates can make things more difficult, as you are not given a clear quote from day one regarding the total cost of dumpster rental.
Instead, you will have to work out how much additional payments will be needed when working with a company like this, such as charging for delivery, pick-up, overflow, and type of debris being disposed of.
Flat rate pricing, on the other hand, may be the best option for you as it is easier to understand from the offset.
Companies that operate with a flat rate will give you a complete and accurate quote as the cost of the dumpster rental includes everything. This means you will know from the offset how much it will cost to rent a dumpster from this company, as the quote includes all fees, including the size of the dumpster, rental period, and debris type.
The only thing that is not included in a flat rate quote is any additional fees that you may be charged following dumpster rental, such as overflow charges. 
With this in mind, it will be easier for you to budget when relying on a dumpster rental company that uses flat rates. This is typically the best option for most people as it makes things easier, so make sure to check the pricing system of any local dumpster rental company before hiring them.
Are The Terms Clear?
All local dumpster rental companies will have their own set of rules when it comes to what can be thrown into their containers. This is because not only do dumpster rental companies provide dumpsters to their clients, but they also dispose of all waste themselves.
This is why every dumpster rental company will have a set of terms and conditions regarding the kind of waste that can be disposed of through their services. Not following these rules can lead to additional charges and will make things more difficult for you.
As these terms are important, you need to make sure that the local dumpster rental company you are considering is clear with its rules. 
It should be easy to understand what is accepted by the local dumpster rental company and what is not to prevent issues later down the line. 
For example, most local dumpster rental companies will not accept hazardous waste or medical waste in any form, and this should be clearly stated in their terms. When it comes to household waste and yard waste, there may be additional specifications regarding what the local dumpster rental company can dispose of safely.
Knowing these rules and having them laid out by the dumpster rental company will make things easier for you when renting a dumpster locally.
Do The Representatives Know What They're Talking About?
The first point of contact for all customers with a local dumpster rental company is the representatives. Depending on the local dumpster rental company you choose, you may be able to contact these representatives in person or over the phone.
These are the people you will speak to regarding the quote for renting a dumpster, as well as arranging a dumpster rental along with any issues which may come up along the way, so they should be approachable and knowledgeable. 
With this in mind, dumpster rental representatives are incredibly important to consider. As they represent the company, they are a good place to look when determining whether this brand is the right pick for you.