Dumpster rentals are incredibly powerful options and are suitable for all kinds of projects at nearly any scale. However, unlike many things, choosing a local option is almost always better than renting one from somewhere far off.
Local companies can be cheaper and more reliable in many cases, but it is not immediately obvious why that is the case.
EWM Dumpster Rental of Garrett County provides affordable waste management services and solutions to customers in Oakland, Maryland and the 21550 ZIP code.
Most people think that the delivery time is the only difference, but it is much more than that. Why should you choose a local dumpster rental company (like us at EWM Dumpster Rental) rather than a larger company that covers a wider area?
Distance
While it can seem easier to call a larger company at first, local companies are often explicitly set up to focus on the area around them. This makes them much faster at delivering a rented dumpster without any delays and also eliminates any confusion between locations.
For example, you could call us directly to arrange an EWM dumpster delivery in your state, rather than having to go through multiple different contacts or a tree of robotic phone options to get the state that you want. It also reduces the chance of two similarly-named places being confused.
This distance also means that deliveries can be faster, making the rental much more convenient for you and anybody working on your project. The dumpsters are all available within your area and can be delivered by vehicles that are on standby within your state (or possibly even your town).
Convenience
By choosing dumpster rental companies within your area, it becomes much easier to deal with issues or problems that might arise regarding the rental itself. For example, you could potentially visit our offices yourself to arrange in-person meetings if you have any special requirements or complaints.
This kind of availability is something that is not offered by larger companies. If you are within our range of states that we service, then our offices are available, so you will not need to worry about anything important moving to an out-of-state location.
Depending on how close you are to one of our offices, it also means that the rental can be handled much faster. If you are within the same general area, then the dumpster can be delivered on very short notice, and the smaller scope of some local companies reduces the processing time involved in the rental.
Delivery Time
The most obvious benefit is the amount of time it takes for a dumpster to be delivered. If you get a dumpster rental, then you expect it to be available at the start of your project, which becomes harder if you are having to work with a larger company that needs to pass your rental down multiple different chains.
In simple terms, you are nearer to your dumpsters. Local companies will never run into the problem of shipping dumpsters back and forward between locations to meet supply and demand, so there will always be a consistent amount on offer – leading to reliable, predictable delivery times.
This can help a lot if you need an early pick-up, too. If a US-wide rental company is called for an early collection, they might simply not be able to do it since their vehicles service so many different locations. Groups like ours are far more likely to give you good service since we target specific areas.
Remember that proximity is important when it comes to rentals. The larger-scale a company is, the more complex it becomes, meaning that you could rent a dumpster that needs to be delivered from a full state away.
Simplicity
When you get an EWM Dumpster Rental, you are getting something from a smaller (but still reliable) company that only targets certain parts of the United States. This means that each rental is directed carefully, consistently, and without much chance of details being mixed up or lost.
Like any large company, there is always a chance that your information could get lost in mountains of user data, damaged, stolen in cyber-attacks, or simply handled poorly. While this can happen at any company, it becomes much more of a problem (and much more likely) with bigger, more spread-out groups.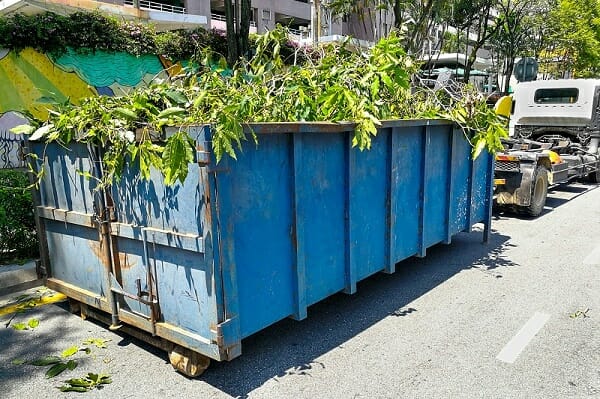 Local dumpster rental companies are simpler in terms of scale, but that also means that your information is often more secure and less likely to be lost. With a reliable group like us, you can get the best of both worlds: good security and service without the problems caused by complicated communication or supply chains.
Unconventional Options
In many cases, a smaller dumpster rental company like ours is more willing to help you out in unconventional ways. For example, if you wanted to visit one of our offices to get a look at dumpster sizes and scales (so that you can judge which one works best for your project), then we can try to arrange something.
Anybody who is performing a solo DIY project, or a project that is not getting much professional oversight, can benefit from having a reasonable company willing to offer them a dumpster. Small touches, like specific delivery locations or exact pick-up times, are also easier to secure.
If you want your dumpster rental to be highly tailored to your needs and handled by a company that knows your local area very well, then there is no reason not to choose a local company. When you need a dumpster, you want to get it in the most convenient way possible.