If you are working on a home renovation project, there is a lot you need to get prepared for. You might have spent a long time gathering the tools and materials that are needed for the project, but have you considered waste removal?
You will need somewhere to put all of the junk that you are removing from your house. While most communities have some form of junk removal service, which will come to your house weekly to collect household waste, you will likely be collecting more waste than your household trash will allow.
Our dumpsters can be spotted on all types of jobsites in Allegheny West and the Philly metro area, including construction sites, demolition sites, renovation sites, and more.
When it comes to waste removal, you have two main options, and you should consider how you are going to be dealing with junk before beginning work on your home.
In this guide, we are going to talk about your two options and help you make the right decision for your needs.
Dumpster Rental For Home Renovations
When it comes to bulk waste removal, the better choice may be to consider hiring a dumpster.
This is especially the case when dealing with construction waste, which you will gather when working on home renovations. With a large dumpster on your property, it will be easier to remove waste and to keep your site clean as you work.
You can use a dumpster until it is full and there is a range of containers available to hire, based on your needs. There are sizes of 10, 15, 20, 30, and 40 yards ensuring there will be a dumpster available for every need.
Special Varieties of Dumpsters To Rent
There are various sizes of dumpsters available to rent, and you can choose the container that suits your needs best. When you contact a dumpster rental company, you should talk to them about the work you are doing so they can advise you.
As well as different sizes of containers available to rent, you can also choose from:
Construction (residential or commercial)

General debris (household cleaning)

Roofing (several sizes are available for this)

Concrete and dirt (roll-off dumpsters)

Yard waste (landscaping, however not suitable for logs over four inches in diameters)
Important Note: Terms For Dumpster Rental
While there is a range of containers available to hire, not all kinds of waste can be disposed of this way. Like all other forms of trash receptacles, there are certain materials that should never be thrown in the waste with general trash, such as hazardous waste or medical waste.
It is illegal to throw away trash like car batteries, propane tanks, or any form of dangerous cargo inside a dumpster or with your household waste.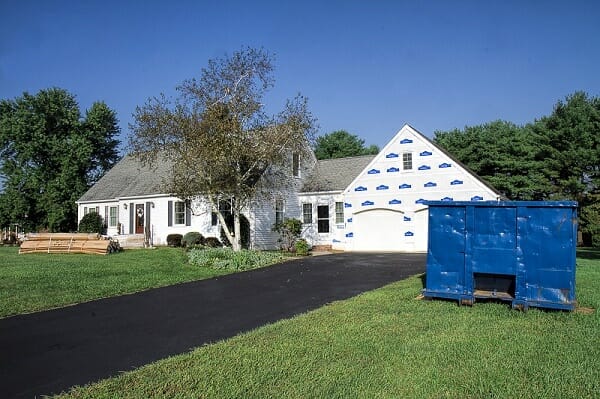 This is something that the dumpster rental company will inform you of before you can hire a container, and there may be additional restrictions based on your state.
Benefits Of Dumpster Rental
There are many benefits of dumpster rental that may make this your best option when working on a home renovation. 
Not only does hiring a dumpster allow for total control of the timeframe of waste removal as well as you being able to choose when the waste will be removed from your site, but it also provides peace of mind. 
With a dumpster, you can rest assured that all waste will be removed from your site, and you will not have a lot of mess left to work with after the project.
Likewise, with a dumpster, the waste will not litter the streets, which could result in fines from your local authority. Dumpsters allow for control and easy management when it comes to both construction and household waste, ensuring you can focus on the job at hand instead of focusing on the rubbish it creates.
There are limits to how much a dumpster can hold, which is why there are several options for the size of containers. However, when you work with a  dumpster rental company, they will provide you with a new container once the old one has become full. 
They will collect the dumpster and dispose of the waste for you while also providing a new, empty container if this is required.
As we have mentioned, you can control the time you have the dumpster on your site as you can choose the date that it will be collected and disposed of.
This control makes it easier for you to take on large home improvement projects, regardless of your schedule, because you know one of the biggest tasks – waste removal – will be taken care of. You know that the waste will not sit on your front lawn for months following the end of the project, nor will you have to worry about what the neighbors think, as it will all be taken care of by the dumpster rental company.
Dumpsters are available in a range of sizes, meaning they can handle almost all forms of household waste and debris, whether this is construction materials, furniture, or general household waste.
There are many benefits to hiring a dumpster, but the main one is the fact they provide constant access to waste removal, which will make it easier for you to get the work done when renovating your home.
While local waste removal services, such as those offered weekly, are great, they are not suitable for large amounts of waste. This is why if you are working on home renovations, you should consider renting a dumpster from a local company.